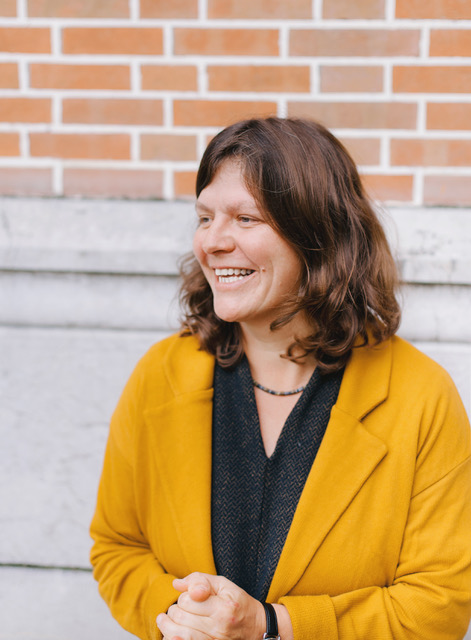 Katharina Heyden is full professor of Ancient History of Christianity and Interreligious Encounters at the University of Bern. She runs the study programme «Interreligious Studies» and directs the Interfaculty Research Cooperation (IRC) "Religious Conflicts and Coping Strategies." The IRC consists of 12 subprojects and brings together more than 40 researches. They work in theology, psychology, legal sciences, religious studies, Jewish studies, Islamic studies, political sciences, history, communication studies, philosophy, gender studies and German studies. The overall goal of the cooperation is to build a context-sensitive model to analyze and describe religious dimensions of conflicts. The model is illustrated in this video.
Katharina Heyden completed her studies in Theology in Berlin, Jerusalem, Rome, Jena and Göttingen. She was member of the "German Young Academy" and is also an ordained Lutheran pastor.
Her Video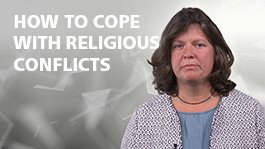 How to Cope with Religious Conflicts – Insights from History
Conflicts with religious dimensions have shaped humankind ever since. Considered by some as the primary cause of conflict, others see religion as inherently peaceful and simply instrumentalized to advance conflicts. In this video we reflect about what should be taken into account to cope with and understand religious conflicts.
Selected publications
Heyden, K. (forthcoming). Soldatenheilige. In: Reallexikon für Antike und Christentum.
Heyden, K. & Lissek, M. (Eds., forthcoming): Jerusalem in Roman-Byzantine Times. Tübingen: Civitatum Orbis Mediterraneum Studia (COMES).
Heyden, K. (2019). De gestis in Perside. Eine Religionskonferenz in Persien. Freiburg: Fontes Christiani.
Heyden, K. (2018). Die legendäre Begegnung zwischen Franz von Assisi und Sultan Melek al-Kamil oder: Von der geschichtsprägenden Absicht in Geschichten. Mediaevistik: International Journal of Interdisciplinary Medieval Research, 31, 203-230.
Heyden, K. & Manuwald, H. (Eds., 2018). Übertragung heiliger Texte in Judentum, Christentum und Islam: Fallstudien zu Formen und Grenzen der Transposition. Hermeneutische Untersuchungen zur Theologie, 75. Tübingen: Mohr Siebeck.
Heyden, K. (2016). Fremdenliebe – Fremdenangst: Zwei akademische Reden zur interreligiösen Begegnung in Spätantike und Gegenwart. Zürich: Theologischer Verlag.
Heyden, K. (2014). Orientierung: Die westliche Christenheit und das Heilige Land in der Antike. Jerusalemer Theologisches Forum, 28. Münster: Aschendorff.
Gemeinhardt, P. & Heyden, K. (Eds. 2012). Heilige, Heiliges und Heiligkeit in spätantiken Religionskulturen: Religionsgeschichtliche Versuche und Vorarbeiten. Berlin: De Gruyter.
Heyden, K. (2009). Dialogue. In: Allison, D. C., Klauck, H.-J., Leppin, V., Seow, Ch.-L., Spieckermann, H., Walfish, B. D., Ziolkowski, E. (Eds.), Encyclopedia for the Bible and its Reception, 6 (pp. 736-740). Berlin: De Gruyter.
Heyden, K. (2009). Beth Shean/Scythopolis in Late Antiquity: Cult and Culture, Continuity and Change. In: Kratz, R., Spieckermann, H. (Eds.), One God – One Cult – One Nation: Archaeological and Biblical Perspectives. (pp. 301-337). Berlin: De Gruyter. DOI: 10.1515/9783110223583
Awards
Elected member of the German Young Academy (2012 - 2017)
Dorothea-Schlözer-Forschungsstipendium of Georg-August-Universität Göttingen (2011 - 2013)
Best Teaching Award of the Faculty of Theology Göttingen (2011 & 2009)
Award of the Society for the Study of the Christian Orient (GSCO) (2009)